Welcome to easydoo's customer community!
Connect with other easydoo users and with us to suggest features, share best practices and ask questions.
How to delete a workspace I have created?
Dear Mr. Eckstein
Thank you for your question. Unfortunately, it is not yet possible to delete a workspace of which you are the owner. This feature, however, is part of our feature pool and awaiting to be implemented. Our goal is to implement it by the time easydoo leaves the early access phase.

I suspect that this is not your issue. But in case you are part of someone else's workspace, you have the option to leave the workspace through the user menu.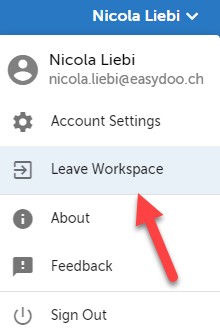 Please feel free to contact me in case you have any other questions.
Best regards,
Nicola Liebi
Redirect users using a not supported browser to an explanation page instead of showing an endless hour glas
Dear Mr. Eckstein
Thank you for this idea. We will review this idea and take the appropriate measures.
Best regards,
Nicola Liebi